MakeBootable is a freeware application that turns your USB pen drives into a bootable media with just a single click. This nifty utility makes your pen drive to be bootable without erasing any data in the USB device.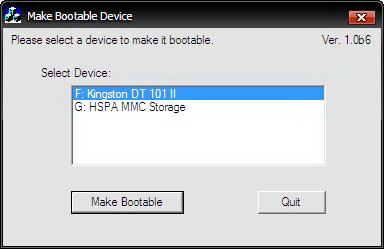 MakeBootable consists of a single executable file and requires no installation. To use MakeBootable, run the MakeBootable executable file. On the main window, select the USB device you wish to make bootable. Click on the "Make Bootable" button to begin the process. The program will load several files required for boot up into your device.
Next, you need to
change the boot-up setting in the system BIOS
. With your USB device still plugged, restart your system. Enter the BIOS setup menu and change the
boot
device
setting. Select
USB Device as First

Boot

device
in the boot device priority. If the boot-up files are created in the USB drive, select USB-HDD or USB-ZIP (preferred). If the boot-up files are created in the
floppy
drive
of your device, select USB-FDD (for pen drive that supports security mode).
Once done, save and exit the BIOS setup. Now, you should be able to boot up with your USB device.
MakeBootable run perfectly on Windows 98, ME, 2000 and XP.
Note : Before running MakeBootable, if your USB pen drive is under FAT32 and NTFS file system format, you need to convert the format to FAT. MakeBootable does not support FAT32 and NTFS file systems.
Labels: Tips and Errors